Investigation team
On August 4, 2019, it will be 75 years since Anne Frank, her family, and the others were arrested. Although it was subjected to several investigations, the circumstances that led to the arrest have never been found. This investigation is different from all previous attempts to find the truth. It will be conducted using modern law enforcement investigative techniques. The research team is multidisciplinary, using methods of cold case detectives, historians, but also psychologists, profilers, data analysts, forensic scientists and criminologists. In this way, new light will be brought to the events.

The team uses specially developed software to organize and analyze the vast amount of data, which has already generated new insights. It enables them to see connections that are not visible to the naked eye. These new insights may not only be applicable to the Anne Frank case. In the future, this information may be used to solve others cases of arrest and betrayal during the Nazi occupation.

The public's assistance in solving cold cases is very important. Do you have any information that can help the Cold Case Team to solve the question: What led to the arrest of Anne Frank and the others in the annex? Please submit your information here.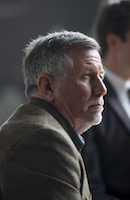 Vince Pankoke, leader of the investigation
Vince Pankoke is a retired FBI agent, who has been praised for his involvement in tracking and investigating Colombian drug traffickers. The Colombian government awarded Pankoke a medal for his involvement in investigating the North Valley Cartel. In his role as an undercover agent, he was able to infiltrate the financial activities of infamous Wall Street criminals. Vince's FBI experience allows him to approach the Anne Frank case in a new manner. He is the leader of a multidisciplinary Cold Case Team that will recreate this historic event to provide new insights into the truth. Utilizing testimonial reconstruction, the Cold Case Team can go back in time and make this cold case hot again.
Research Facilitators
The Cold Case Team is comprised of numerous professionals, each providing assistance in their areas of specialization/expertise. Historians like David Barnouw and Gertjan Broek have studied Anne Frank thoroughly. Fellow colleagues from the FBI are also assisting, including one of the founding members of the FBI Behavioral Science Unit, former Unit Chief Dr. Roger Depue. Cold case specialists from America and the Netherlands offer input to the team.
Artificial Intelligence (AI) is provided by Xomnia, an Amsterdam based "big data" company specializing in processing and analyzing enormous amounts of data. Major Dutch archives and research institutes are facilitating the research, including the Dutch National Archives, the Institute for War, Holocaust and Genocide Studies (NIOD), the Amsterdam City Archives, and the Anne Frank House. Also providing documentation support is the United States National Archives and the United States Holocaust Memorial Museum. The knowledge and experience of these experts and institutions is aiding the Cold Case team by contributing critical pieces to solve the case.
| | |
| --- | --- |
| Vince Pankoke | Lead Case Agent (retired Special Agent of the FBI) |
| Monique Koemans | Criminologist, historian and author |
| Brandon Rogers | War crimes investigator |
| | |
| Joachim Bayens | Translator |
| Veerle de Boer | Researcher |
| Circe de Bruin | Ma. Public History |
| Roger Depue | Behavior Scientist/Profiler (retired FBI Behavioral Science Unit) |
| Amber Dekker | Ma. Military History |
| Rory Dekker | Intern translations |
| Matthijs de Die le Clerq | Intern research |
| Nienke Filius | MSc. Forensic Science |
| Anna Foulidis | Ma. Public History |
| Anna Helfrich | Intern research |
| Soeliah Hellwig | Ma. Gender Studies |
| Robbert van Hintum | MSc. Human Aspects of Information Technology |
| Christine Hoste | Ma. Public History |
| Nina Kaiser | Intern documentalist |
| Bram van der Meer | Behavioral Psychologist |
| Lilian Oskam | BSc. Criminology |
| Welmoed Pluim | MSc. Criminology |
| Marin Rappard | Ma. Heritage Studies |
| Isis de Ruiter | Intern documentalist |
| Cerianne Slagmolen | Ba. History |
| Patricia Spronk | Ma. Gender Studies |
| Sander Veeneman | Photographer |
| Rinsophie Vellinga | External researcher |
| Machteld van Voskuilen | Ma. Social History |
| | |
| --- | --- |
| Gerard Aalders (Historian and Author) | |
| David Barnouw (Historian, Lecturer and Author) | |
| Hubert Berkhout (Archivist) | |
| Gertjan Broek (Historian) | Anne Frank House |
| Corien Glaudemans (Historian and Researcher) | Haags Gemeentearchief |
| Bernhard Haas (Forensic Examiner) | |
| Eric Heijselaar (Archivist) | Stadsarchief Amsterdam |
| Peter Kroesen (Archivist) | Amsterdam City Archives |
| Wil Fagel (Forensic Handwriting examiner) | Fagel Forensic Research |
| Carina van Leeuwen | Forensic cold case detective |
| Guus Meershoek (Historian) | |
| Quentin Plant (Data scientist) | |
| Leo Simais (Police advisor) | |
| Hans Smit (Police advisor) | |
| Eric Slot (Historian, author, journalist) | |
| Gerrold van der Stroom (Historian) | |
| Erik Somers (Historian) | NIOD |
| Sierk Plantinga (Archivist) | |
| Sietse van der Zee (Journalist, Author) | |
Job Cohen
Retired Dutch politician prof. mr. dr. Job Cohen (1947) served as Mayor of Amsterdam from 2001 to 2010 and as Leader of the Labour Party (PvdA) from 2010 to 2012. On July 2, 1993, Cohen became State Secretary (deputy minister) for Education and Sciences in the third government of Ruud Lubbers. On August 3, 1998, he resigned from the Senate to take up the position of State Secretary for Justice in the second government of Wim Kok.



Roger van Boxtel
Dutch politician of the Democrats 66 (D66) party mr. Roger van Boxtel (1954) was member of the Dutch House of Representatives from 1994 until 1998 and chairman for the liberal political party D66 in the Dutch Senate between 2011 and 2015. From 1998 until 2002 he was Minister for Urban Policy and Integration of Ethnic Minorities. On August 1, 2015, Van Boxtel was appointed as CEO of the Nederlandse Spoorwegen.



Michiel Westermann
Former director of Gentronics and Twinning Holding drs. ir. mr. Michiel Westerman (1952) has a long standing experience as a director of several IT-related businesses. For over 15 years Westermann has been a member of several supervisory boards and therefore has substantial knowledge and experience in managerial affairs.