Investigation team
On August 4, 2019, it will be 75 years since Anne Frank, her family, and the others were betrayed. Although it was subjected to several investigations, the circumstances that led to the arrest have never been found. This investigation is different from all previous attempts to find the truth. It will be conducted using modern law enforcement investigative techniques. The research team is multidisciplinary, using methods of cold case detectives, historians, but also psychologists, profilers, data analysts, forensic scientists and criminologists. In this way, new light will be brought to the events.

The team uses specially developed software to organize and analyze the vast amount of data, which has already generated new insights. It enables them to see connections that are not visible to the naked eye. These new insights may not only be applicable to the Anne Frank case. In the future, this information may be used to solve others cases of arrest and betrayal during Nazi occupation.

The public's assistance in solving cold cases is very important. Do you have any information that can help the Cold Case Team to solve the question: Who betrayed Anne Frank? Please submit your information here.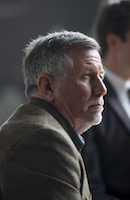 Vince Pankoke, leader of the investigation
Vince Pankoke is a retired FBI agent, who was praised for his involvement in tracking and investigating Colombian drug traffickers. So much so that the Colombian government awarded Pankoke a medal for involvement in investigating the North Valley Cartel. In his role as an undercover agent, he was able to infiltrate the financial activities of infamous Wall Street criminals. His FBI experience allows him to approach the Anne Frank case in a new manner. He is the leader of a multidisciplinary Cold Case Team that will recreate this historic event to provide new insights into the truth. By means of dramatic reconstruction, the Cold Case Team can go back in time and make this cold case hot again.
Research Facilitators
The Cold Case Team is comprised of numerous professionals, each providing assistance in their areas of specialization/expertise. Historians like David Barnouw and Gertjan Broek have studied Anne Frank thoroughly. Fellow colleagues from the FBI are also assisting, including one of the founding members of the FBI Behavioral Science Unit, former Unit Chief Dr. Roger Depue. Cold case specialists from America and the Netherlands offer input to the team. Artificial Intelligence (AI) is provided by Xomnia, an Amsterdam based "big data" company specializing in processing and analyzing enormous amounts of data. Important Dutch archives and research institutes are facilitating the research, like the Dutch National Archives, the Institute for War, Holocaust and Genocide Studies (NIOD), the Amsterdam City Archives, and the Anne Frank House. Also providing documentation support is the United States National Archives and the United States Holocaust Memorial Museum. The knowledge and experience of these experts and institutions is aiding the Cold Case team by contributing critical pieces to the puzzle.
| | |
| --- | --- |
| Vince Pankoke (Retired FBI Agent) | Lead Case Agent |
| Roger Depue (Former Unit Chief FBI Behavioral Science Unit) | Criminal Profiler |
| Laura de Korte (Criminologist) | Researcher |
| Rob Bartels (Former Police Officer) | Researcher |
| Christine Hoste (Historian) | Researcher |
| Marlinde Venema (Historian) | Researcher |
| Babette Smits van Waesberghe (Historian) | Researcher |
| Eline Kemps (Historian) | Researcher |
| Mattie Timmer (Media Researcher) | Researcher |
| Marius Helf (Chief Data Scientist, Xomnia) | AI Developer |
| Robbert van Hintum (Data Scientist, Xomnia) | AI Developer |
| Quentin Plant (Technology) | Consultant |
| Gertjan Broek (Historian - Senior Researcher Anne Frank House) | Consultant |
| David Barnouw (Historian, Lecturer and Author) | Consultant |
| Erik Somers (Historian, Lecturer and Researcher) | Consultant |
| Eric Slot (Historian, Journalist and Researcher) | Consultant |
| Hubert Berkhout (Archivist NIOD) | Consultant |
| Leo Simais (Dutch National Police) | Consultant |
| Hans Smit (Dutch National Police) | Consultant |
| Guus Meershoek (Police Historian and Lecturer) | Consultant |
On August 4, 2019 the results will be presented,
75 years after the discovery of the secret annex